Sins and Virtues of Geneva (Free)
Pride and love, gluttony and moderation, justice and anger, envy and courage — sins and virtues go hand in hand in Geneva.
The monument in honour of Empress Elisabeth "Sissi", who was stabbed to death, is located not far from the "doing a good deed" Jet d'Eau fountain. The monument to Jean-Jacques Rousseau reminds visitors of a man who promoted ideas of social equality, but at the same time confessed to affairs with married women and masochism. The building known to serve as a shelter to orphans and bread for the poor in the Middle Ages was also used to lock up beggars and the insane, but the theologians depicted on the Reformation Wall were later taunted with inflexibility, mercilessness and heartlessness.
Do you want to know the place for debauchery in Geneva, and the places where they scolded everyone for an overly beautiful hairstyle? Are you wondering where you can see evidence of the courage of the Genevans, and where you can get an insight into their injustice?
We will guide you through the key places associated with the sins and virtues of this city, and tell the true story of the real people. You will understand how the founder of the Red Cross really lived, why Michael Servetus was executed, and why John Calvin was criticized.
You will not only manage to see all the main sights of Geneva, but also look at them from a different angle — from the perspective of human vices and virtues.
This is a self-guided excursion, therefore, you will need a mobile phone and internet connection.
You will not get lost, because we will guide you every step of your way. Approximately like that: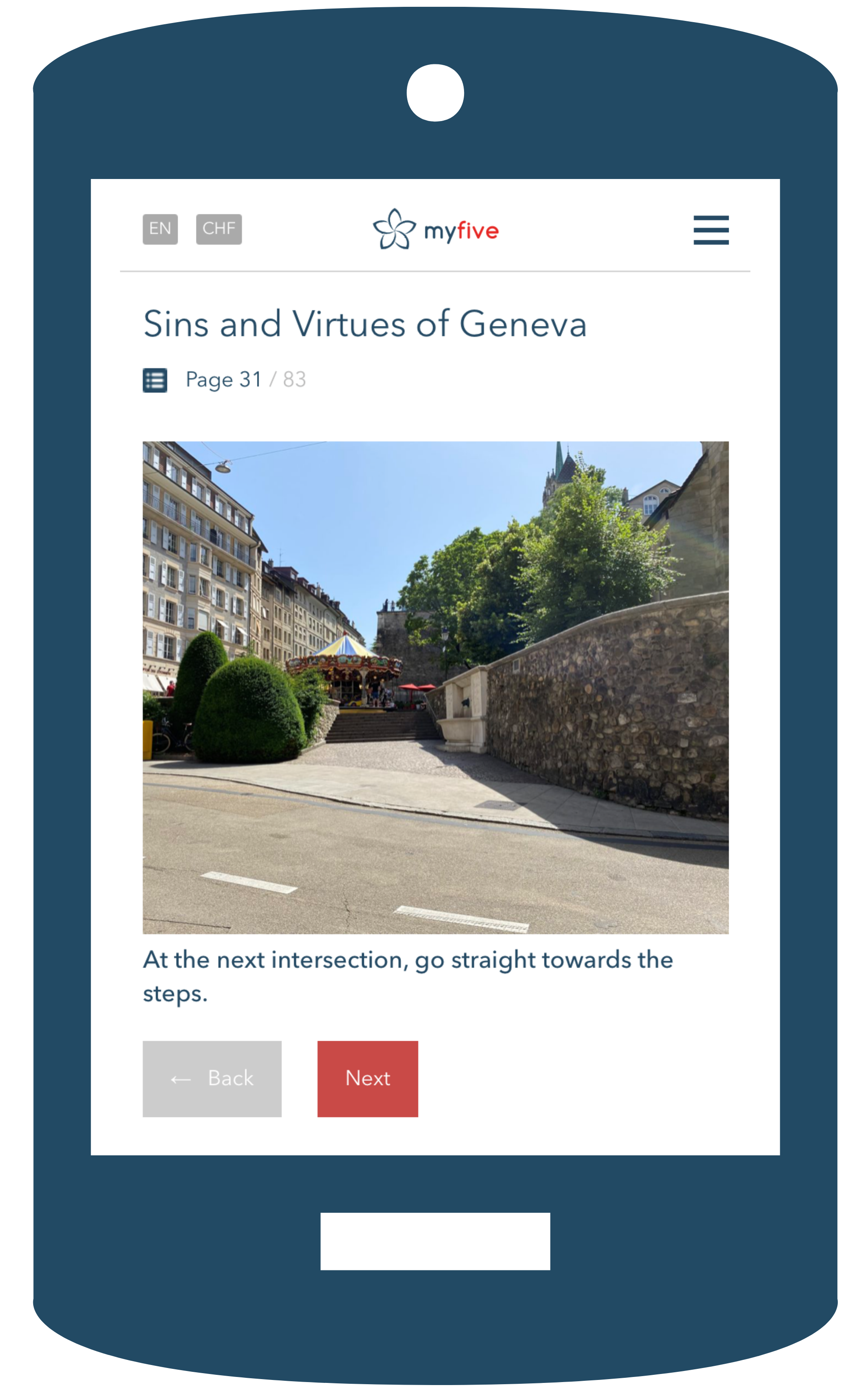 In case of any questions, you can always contact us by phone +41 79 554 45 45 or by email happy@myfive.travel.
WHAT WILL YOU SEE?