The Dark Side of Zurich
What do people usually say about Zurich?
Switzerland's financial heart… The city of bankers and shoppers… The streets where everyone is in a hurry…
Self-guided audio tour "The Dark Side of Zurich" invites you to get to know a radically different Zurich.
Think 500 years back and imagine a medieval city with medieval customs. An executioner lives somewhere nearby, across the street they are taking a woman suspected of witchcraft to prison, and not very far away the city council is deciding on how to execute the guy who stole four bags of salt.
Do you want to see and find out where people were tortured in Zurich and how, where the pillory was located and where executions took place? We will not only guide you through the key places associated with this dark side of the city, but also tell the true story of the real people. You will learn how stoically the beautiful Elsbeth, suspected of witchcraft, endured torture, how cruelly the maid Adelheid was executed, and how rich Agatha did not manage to escape a death sentence.
Along the way, you will also see the main sights of Zurich and find out where the executioner's house was located, why the stained glass window depicting the crucified Christ is green in Fraumünster Church, and who was executed near the Grossmünster building. You will also see the Town Hall where death sentences were announced and find out where a person could take the last sip of wine when going to the execution.
This is a self-guided audio tour, and you will need a mobile phone and internet connection.
You will not get lost, because we will guide you every step of your way. Approximately like that: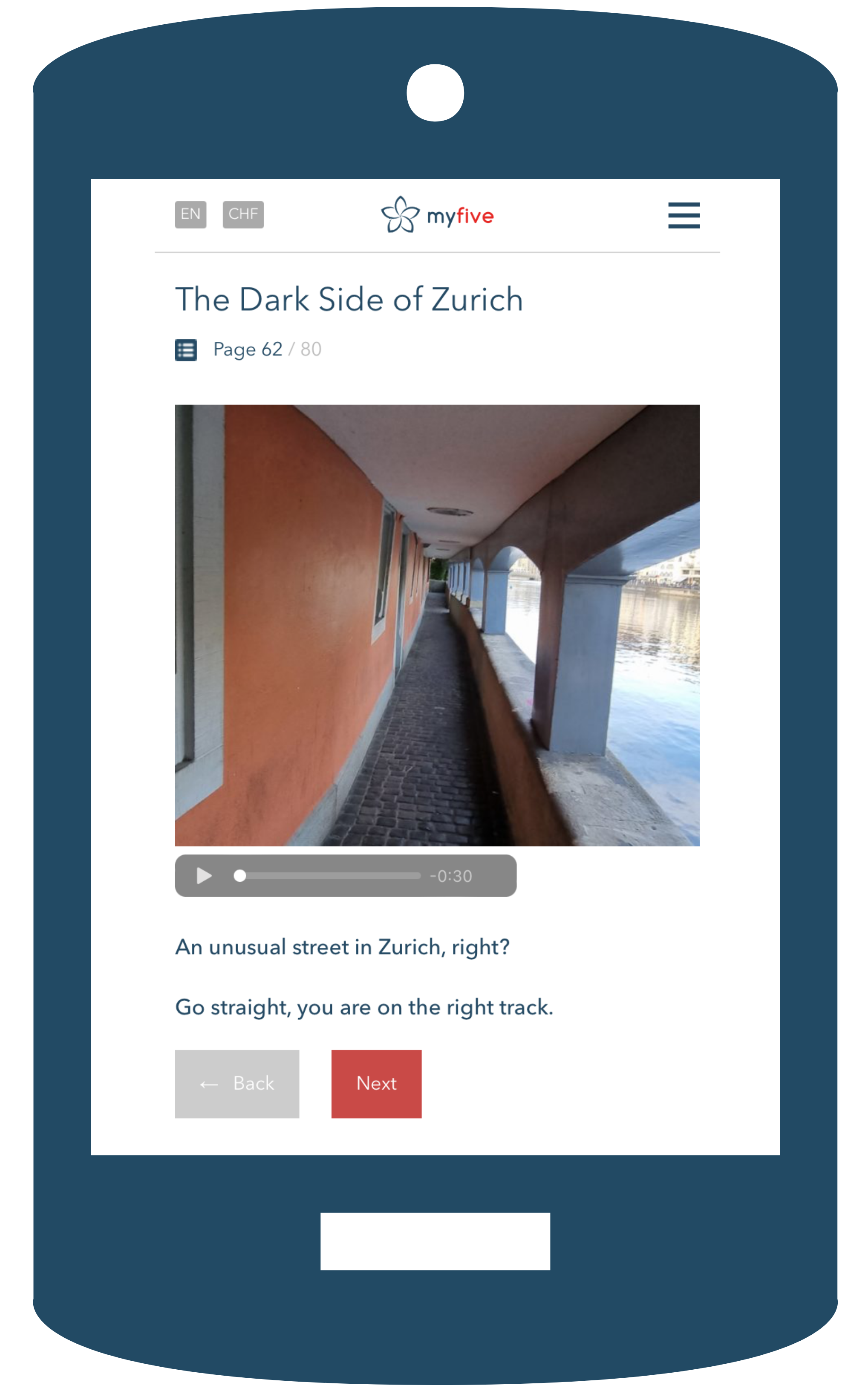 Still not sure? Listen to the piece of the audio tour and get all your doubts cleared!
Click "Buy" button below and the journey through the city will begin!
After paying by credit card, you will receive a booking confirmation to your email within a few minutes with a link to the audio tour.
Your link to the audio tour will be available simultaneously from different mobile phones. This means that you can buy one tour, share the link with your family and friends and enjoy it, each using your own phone.

Your link will be valid at least 24 hours after the purchase.
In case of any questions, you can always contact us by phone +41 79 554 45 45 or by email happy@myfive.travel.
The Dark Side of Zurich
10 CHF
Buy
WHAT WILL YOU SEE?